Different types of sanitary strainer?
Views: 22 Author: Site Editor Publish Time: 2019-10-30 Origin: Site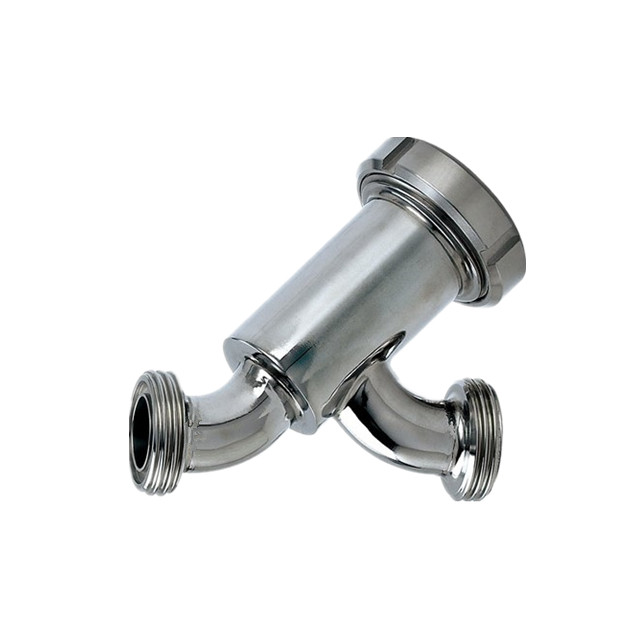 Shuangzhan machinery (sswktech) designs and manufactures 4 types strainer mainly, all of them are variety of sizes with high quality, not only surface finish, but also welding and material.
Inline strainer

Side outlet or Angle strainer

Y type

S type Cartridge Pipeline Filter
Sanitary inline strainer-clamp,weld, thread
The inline strainers can use perforated inserts or wedgewire interchangeably. Perforated inserts require either disposable filter socks or wire mesh overlays for fine filtration. Wedgewire offers an effective and durable single piece insert in micron ratings equivalent to wiremesh.
Advantages of wedgewire:
One piece solution

Durable, long-lasting

Increased pressure rating

More sanitary than wiremesh
Sanitary Y strainers



When you need to remove solids from your gas, liquid or steam line, a Y strainer is the great choice. Y strainers have many applications, whatever industrial level or food grade level, such as waste water, beverage etc. A Y strainer, unlike an inline strainer or basket strainer, is designed in a compact and cylindrical shape, built to withstand high pressures. The strainers offer protection for your sanitary steam traps, pumps, control valves, meters and regulators further along in the pipeline. Whether protecting equipment or removing sand and gravel, or in use in petroleum, chemical processing, power generation, marine businesses, food and beverage and pharmaceutical industries, Y strainers can be a great role.
As professional Y strainer manufacturer, Shuangzhan machinery (newtekindustry) offers a complete line of strainers to meet your processing.
Features:
O-ring seals, EPDM/SILICON/VITON available

Body diameter: 3", 4", 6"

Connection: 1", 11/4",1.5",2",2.5", 3",4"

Connections: Clamped, I-Line, Bevel Seat, Butt Weld

Surface Finish: 25 Ra Internal, 35 Ra External

It can be installed horizontally or vertically.
Mesh options:
Perforated column with 1/8" or 1/4" inch diameter or others

Wire mesh with perforated column 12-1000 mesh

Wedge wire element-50, 100 microns etc
Sanitary Cartridge Pipeline Filter
A 316L stainless steel sanitary filter housings feature "T" style tri-clamp pipe fittings for high purity and aseptic processing applications in the pharmaceutical, biotechnology, food and beverage industry and more. Rated for 90 PSI with 1" or 1.5" sanitary pipe fitting options available, the tri-clamp design allows for quick release and easy cartridge installation, while the 1/2" drain and vent ports offer complete evacuation prior to change out as well as bleeding off of air during start-up. This filter vessel can accept cartridges 10" in length up to 2.7" OD in DOE, 222/Fin or 226/Fin configurations.