How to Upgrade a Homebrew Kettle?
Views: 11 Author: Site Editor Publish Time: 2021-08-11 Origin: Site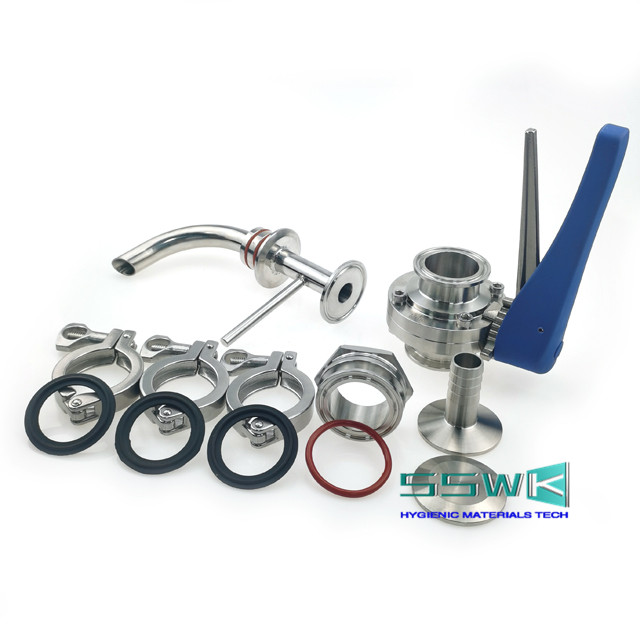 To start brewing, most of them use all ball valves and hardwares threaded ends, they are cheap, but not easy to clean, and looks poor quality. Here Shuangzhan machinery (SSWK) provides a upgrade kit, please contact me if you have better idea, let's brew together.
This sanitary upgrade kit has been one of the most requested items in homebrew, and we've finally put all fittings together. The biggest advantage of this kit is the tri clamp connection allowing users the variety to mix and match new components on the outlet of the brew system.
Benefits of Tri-Clamp / Tri-Clover Compatible Fittings
Tri-clamp fittings is included in sanitary fittings and are used across many industries from food processing to biology and brewing. Tri-clamps allow tubing connections to be made in a sanitary way, more importantly, they can be easily disassembled for cleaning and inspection. Shuangzhan machinery's Tri-clamp fittings come with the food grade surface finish to contact your liquid.
Items included in the pro valve tri-clamp upgrade kit, we can also supply 1" and 2" if you'd like.
Stainless dual o-ring pickup tube or without O-ring

1.5" Tri-Clamp to 3/4" pickup tube

1.5" Tri-Clamp Sanitary Squeeze Trigger Butterfly Valve

1.5" Tri-Clamp to 1/2" Hose Barb

1.5" Tri-Clamp Gaskets, silicone or EPDM material

1.5" Tri-Clamps

1.5" Tri-Clamp Bulkhead

There is upgrade even of the butterfly valve, we can change the trigger handle to stainless steel.
Below is the different racking arm.