Sanitary Tri Clamp Dimensions Guide
Views: 3277 Author: Site Editor Publish Time: 2019-05-29 Origin: Site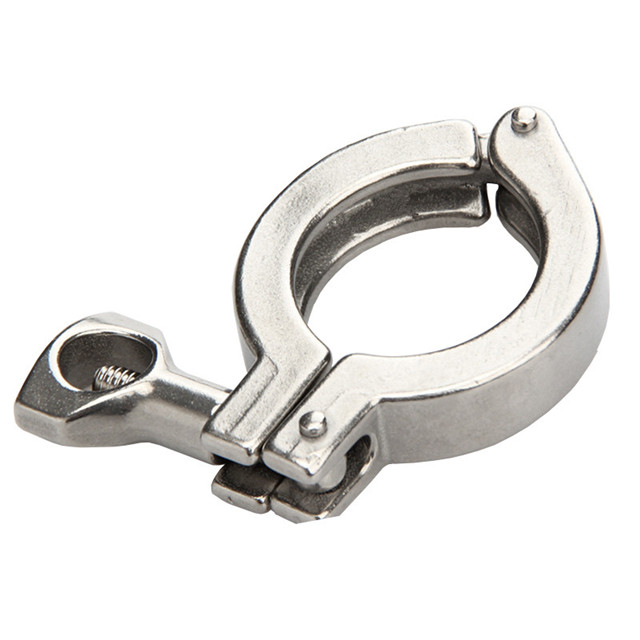 How to select a correct sanitary clamp dimenion?
Shuangzhan machinery provides different standard sanitary clamp fittings, welding fittings, threaded and KF hardwares, customized is available.
Sanitary stainless steel tri-clamp fittings are the most popular style of pipeline equipment used within the food, beverage, dairy and pharmaceutical industries. Quickly get a leak-proof connection easy assembly or disassembly for routine maintenance and inspection. Tri Clamp sanitary fittings, also known as Tri Clover Compatible fittings are one of the most common types of connections in the food and beverage industries.
Tri-Clamp connections require two tri clamp ferrules or liners, a tri clamp gasket, and a clamp to mechanically hold the connection together.

Tri Clamp size is determined by the O.D (outside diameter) of the tubing, not the diameter of the ferrule flange.

Compatible sizes can be joined directly, but different O.D tubes will affect flow, so you will use the larger gasket size, such as 1", 11/4" and 1.5" clamp ferrules are the same 50.5mm clamp flange, but use different gasket size, DN25, DN32 and DN40 as well.

1/2" and 3/4" can use 25mm clamp flange both, but 3/4" tubing have 34mm clamp flange as well.

Available in 304L, 304 and 316L stainless steel alloys and manufactured in accordance with world popular standards, such as SMS, DIN, ISO, Amercian standard etc. Above of all, choose a correct clamp fitting is very important. Because all of clamp or say tri clamp/tri clover compatible fitting are based on clamp ferrule adapter, here i just collect ferrule dimension, EG, you need a 1inch sanitary clamp elbow, then you can refer 1" clamp ferrule (flange) size.
On the other hand, SMS/ISO/DIN is common in European, the tubing diameter of DIN standard is bigger than SMS and USA standard. SMS and USA standard have the same clamp flange size, but wall thick is different, for example, 1.5" ferrule of SMS and USA have the same clamp flange-50.5mm, but SMS is 1.5mm wall thick, USA standard is 1.65mm. In sanitary fitting field, we don't use inch for DIN, we use DN8, DN10, DN15, DN20, DN25, DN32, DN40, DN50, DN65, DN80, DN100, DN125, DN150, DN200, DN250, DN300 etc, all of din size is bigger than others, such as DN25 have 28mm and 29mm both outter diameter. (DIN11850 and DIN11851 with different length).
How to select a clamp
Shuangzhan machinery tri clamp clamps come in three main types: single hinge, double hinge, three sergent and high pressure bolted . The sanitary single hinge clamp is the most common used , and is considered cost-effective for most applications. The double hinge design costs a bit more and is much more flexible so they are easier to install in tight spaces. Both of these two clamps have similar pressure ratings, and can handle similar installation clearances. There are different nut available, such as round nut, wing nut.
The high pressure bolted version is bolted with brass or stainless nut and a lock washer. The bolts are kept from rotating during installation by a shoulder that is part of the clamp casting. Brass is chosen because it is easier to screw on stainless steel bolts. These are more suited to a permanent or semi-permanent application, high pressure safety supersedes ease of service.
How to select a gasket
There are various material gaskets. You may commonly use EPDM, VITON, SILICON, FKM, PTFE, TEFLON, BUNA-N. All you have to double check are liquid temperature, special feature, food grade or not, acid and alkali resistant.
pls see below dimensions.