Where to Buy Stainless Steel Hoppers & Cones
Views: 152 Author: Site Editor Publish Time: 2019-08-05 Origin: Site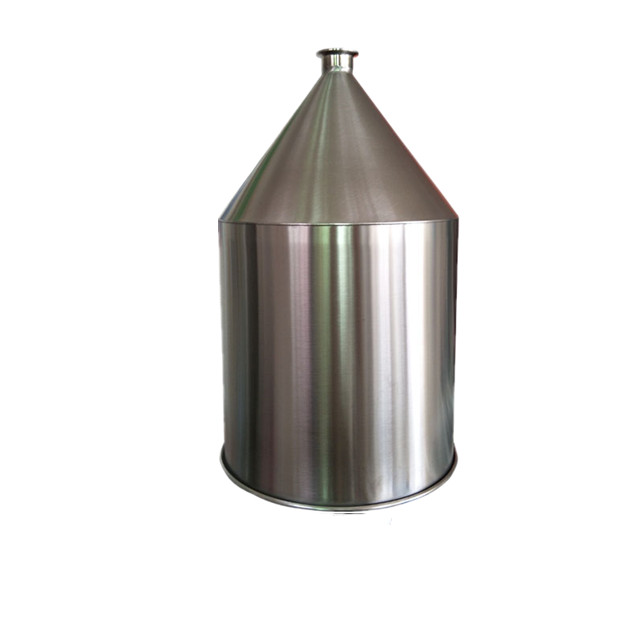 Food grade stainless steel conical hopper
What is hopper?
a container for a bulk material such as grain, rock, or trash, typically one that tapers downward and is able to discharge its contents at the bottom.
What we provide?
Shuangzhan machinery provides customized or standard hoppers, made of stainless steel 304 or SS316 with sanitary grade surface finish. You can ask lid with sealing as well.

tri clamp, threaded or union connection available. Welded construction with high quality smooth gas tungsten arc welding, with a radius transition.
What should buyer kindly provides?

Specs:
Ideal for sanitary applications to minimize cross contamination

Price breaks at 5, 10, 25 & 100 piece order quantities.

Customization options with holes, fittings, and hardware are available.
Applications
stainless steel cone funnels

auger feeders

blenders

bottom discharge tanks

coffee roasters

cone bottom tanks

conical fermenter tank

dryers, air or vacuum

food processing and storage hoppers

food packaging auger hopper

gravimetric loaders

jacketed vessels

makeup / cosmetic packaging feeder

pharmaceutical processing and storage containers

manually loaded plastic injection molding hopper bins
Stainless Steel Cones are used everyday through all sorts of manufacturing plants. Whatever your application, you can have your hopper or cone customized either by us or by a fabrication shop of your choice. Our hoppers help to eliminate welds and improve product flow and sanitary conditions. We can customize your hopper or work with your fabrication shop to save you money while providing the highest quality hopper on the market.