new hygienic anti-mixing valve with cip cleaning
Views: 6 Author: Site Editor Publish Time: 2019-10-31 Origin: Site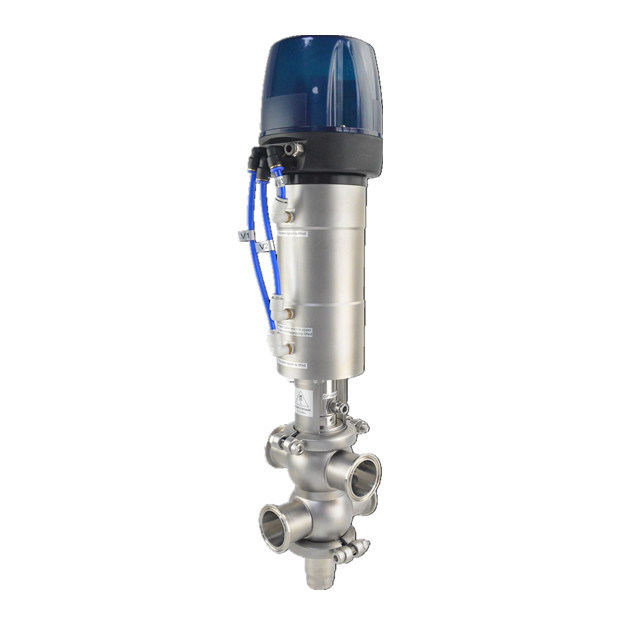 Hygienic stainless steel mix-proof valve actuated--double seat and single seat optional.
C-top, normal stainless steel actuator both available

Application
This hygienic anti-mixing valve is designed to ensure the mixing and leak detection of products when two different products flow through the same valve. It is widely used in food, brewing, beverage, dairy, toothpaste cosmetics, bio-pharmaceutical and other industries.
Features:
Specifications: 1.5"~4" DN40~DN100

Connection method: welding, clamp, thread, flange

Maximum working pressure: ≤6bar

Supply compressed air: 4-8bar

Compressed air connection: air pipe joint G1/8"

Proximity switch: 6-36V DC 2 NPN or PNP (optional)

Solenoid valve: 24V DC

Working temperature: -10 ° C to 120 ° C

Contact with material: SS304/SS316L

Internal surface contact product: Ra≤0.8μm

Sealing: EPDM, Silicone Rubber (SI), Fluororubber (FPM)
Working principle
This mix-proof valve is normally closed (NC) state in common. It is assemblied with two small pneumatic valves. Under normal conditions, it is normally open (NO). It only needs to supply compressed air to the pneumatic head to close the two small valves synchronously. The main valve core is equipped with two independent seals, and a leak detection cleaning chamber is formed between the two seals, and the leaked product can flow out from the small valve outlets on both sides, and the seal is replaced in time. During the CIP cleaning, the fluid flows to the square core of the spool, which can completely clean the main spool (the main spool has a taper), and can also make the external CIP valve insensitive to the water hammer effect. It is mainly used for fluid cut-off in pipeline systems and is used in pipeline systems.