What is a Diaphragm Valve Used for?
Views: 18 Author: Site Editor Publish Time: 2019-05-29 Origin: Site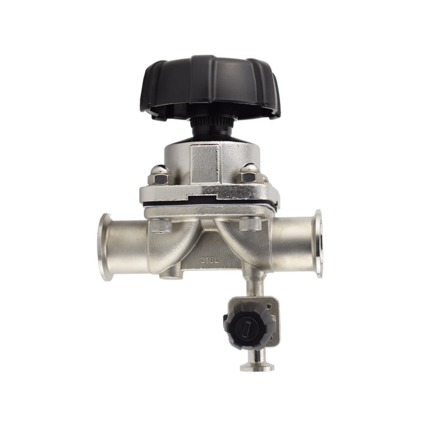 Shuangzhan Sanitary diaphragm valves' compact design make them ideal for pharmaceutical, beverage and bio-processing applications. especially for very viscous liquid, gas, corrosive or inert medium.
Specification:
Sizes available: 1/2", 3/4", 1", 11/4", 1.5",2", 3", 4" or DN15 to DN100
Valve body: AISI 316L.
Valve seat: EPDM+PTFE, silicon
Max. working pressure: 145psi (10bar)
Working temperature range: -22 ~ 266°F (-50 ~ 170°C), or higher upon request.
Inside treatment: Ra 16-32μin (0.4-0.8μm), Ra 25 (0.5μm) is the default.
Direct 2-way body, 3-way or 4-way body
Shuangzhan diaphragm features:
Compact design, anti-corrosive

Stainless steel, plastic handwheel

Stainless steel bonnet with sanitary internals

No dead corner, hygienic level

Position indicator

Ends option: clamp, welded, flanged
Sanitary diaphragm valve application areas:
1. The diaphragm made of soft seal such as rubber or plastic has good sealing performance. Since the diaphragm is a consumable part, it should be replaced periodically depending on the characteristics of the medium.
2. Limited by the diaphragm material, the diaphragm valve is suitable for low pressure and relatively low temperature.
3. Hygienic diaphragm valves can be divided into manually,pneumatic and electric, and of which pneumatic drive is divided into three types: normally open, normally closed. We can add solenoid valve, gas filter, electric positioner as well.
Sanitary grade diaphragm valve structure features:
In sanitary diaphragm valves, since the working medium is only in contact with the diaphragm and the valve body, both of which can be used in many different materials, the valve can ideally control a variety of working media, especially for chemical corrosion or suspension. Particle media. The operating temperature of the diaphragm valve is usually limited by the material used in the diaphragm and body lining. It has an operating temperature range of approximately -50 to 170 ° C. The diaphragm valve has a simple structure and consists only of the valve body, diaphragm and valve head. The assembly consists of three main components. The valve is easy to disassemble and repair quickly, and the diaphragm can be replaced in the field and in a short time.
The sanitary diaphragm valve is provided with a flexible diaphragm or a combined diaphragm in the valve body and the valve cover, and the closing member is a compression device connected to the diaphragm. The valve seat can be a dome or a wall of the straight passage. The advantage of the diaphragm valve is that its operating mechanism is separated from the medium passage, which not only ensures the purity of the working medium, but also prevents the possibility of the medium in the pipeline from impacting the working parts of the operating mechanism.