What is the sanitary stainless steel butterfly valve?
Views: 5 Author: Site Editor Publish Time: 2019-12-16 Origin: Site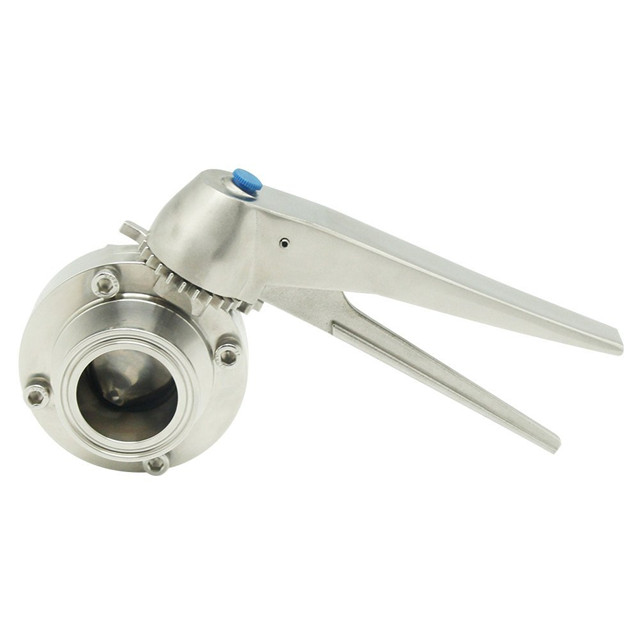 Sanitary SS Butterfly Valves
What is the sanitary butterfly valve?
Sanitary butterfly valves, also known as hygienic butterfly valves, they are a type of flow control device. It is composed of valve body, disc, bolts, nuts, valve seat and handle. Sanitary butterfly valves are used to make a fluid start or stop flowing through a section of pipe for these devices in applications such as food and beverage processing, personal care, biomedical, or pharmaceutical industries.
Type: Butterfly Valve
Sizes: 3/4″ – 12″ or DN15-dn300
Standard: SMS and DIN
Ends availabe: tri clamp to tri clamp, tri clamp to male, tri clamp to weld, male to male, weld to weld, weld to male
Material options: 304, 304L, 316, 316L
Valve seat material: EPDM/SILICON/FKM
Operation: Manual, Pneumatic
Working pressure: ≤145psi (10bar)
Supply pressure for air actuator: 70 ~ 116psi (5 ~ 8bar)
Working temperature: -4 ~ 302°F (-20 ~ 150°C), -22 ~ 392°F (-30 ~ 200°C) option.
Inside surface treatment: Ra 16 ~ 32µin (0.4 ~ 0.8µm)
Outside surface treatment: Ra 32 ~ 64µin (0.8 ~ 1.6µm)
Different operation?
There are 3 operation of sanitary butterfly valve, manually, pneumatic and electric. Manually and pneumatic are popular
---Manually
pull handle and trigger handle, there are 3 or 4 postions of pull handle, and at least 10 positions of trigger handle. The user can get different disc angle by rotating handle.

Pull handle often together with a blue or black ball in the end of a solid stainless bar.

Trigger handle is popular used in brewery becuase it only need a small using space. triggger multi-position handle with plastic cover or in pure stainless steel.
---Pneumatic and electric actuator

Actuators to reach automatic operation: pneumatic stainless steel actuator (vertical type), pneumatic aluminum actuator (horizontal type), and electric actuator.
NC operated: normally closed (fail closed)—air to open, spring to close.
NO operated: normally open (fail open)—air to close, spring to open.
AA operated: double acting—air to open, air to close.

Valve intelligent control: position sensor, C-top controller, air filter and solenoid valve.

Vertical type actuator is spring return, we call single acting often, it is full 304 stainless steel.

There are stainless steel and aluminum material of horizontal type, but aluminum is cheaper and popular. Shuangzhan machinery provides single acting and double acting both of this horizontal actuator in great price and service.

Electric actuator is not safety enough in this field.
The common size of compact sanitary butterfly valve often from 3/4" to 6" (DN15 to DN150), because 8", 10" and 12" are too big, the handle is hard to rotate. Shuangzhan machinery provides clamp type hygienic powder butterfly valves, small torque, real hygienic finish. Size available 6",8",10",12", DN150, DN200, dn250, DN300.